1950s Columbia Torpedo Boys Blog: Masseroli Team
A nice clean late model Columbia with all the options. The chrome is real strong,
nicerims with original tires still holding air. Paint is nice, fenders are dentfree as
well as rear carrier and tank. Head light does have some rust.
The spoton the tank looks worst than what it actually is because it is just
minorsurface rust. Original seat is excellent.

A GI on an early 'curved frame' Columbiatakes two British kids for a ride at a US Camp in Britain in early 1944 (Still from 'Color of War', Carlton DVD)

Genuine WW2 US Army bicycles are amongst the rarest of vintage military vehicles around. Sure, you will see a lot of them at shows but when you have a closer look, hardly any of those are real, complete military production bikes. Most of those are 40's era civilian bikes painted OD....
So few of them are left, especially in Europe, that a bicycle with provable World War 2 US Army use and in any condition is truly a very rare and expensive vehicle.

Although the US Army had used bicycles for many years before WW2, none were standardised for procurement before 1942. The Army's official use for these bicycles was: 'To provide Transportation for Personnel engaged in Dispatch or Messenger Service'. Of course they were used for many other purposes. They proved a fast and economical way to get around Depots, Camps and Airfields.

The 'Bicycle, Military, Universal' was adopted in October 1942 by the Ordnance Department. It was a military version of the Westfield 'Columbia' and was equipped with heavy duty rims and spokes. It came with a D-Cell powered headlight on the front fender and basic tools were carried in a toolbag attached to the Persons saddle. A tire pump was clamped to the frame.

These bikes were manufactured by both Westfield Columbia and Huffman with only minor differences in parts. Huffman fenders were rounded as opposed to gothic ones on the Columbia, chainguards varied and Huffman front sprockets had a unique whirlwind design.... All parts were interchangable. Early rubber pedal blocks were replaced with wooden ones later in the war. Early frames had a curved front tube but these were replaced with straight tubes on later models.
Late in WW2 Columbia produced a Women's model. Folding 'Compax' models were tested by Airborne Troops and the US Marine Corps but saw no action in Europe in WW2.

Westfield Columbia MG138969 (±Late 1943)

The Westfield Serial Number files do not contain any reference to specific Military contracts, so it's become very hard to determine how many bikes were maufactured and when....
Huffman frames were dated, but there too there's no reference to how many were made...
I am trying to put together a database with Models and SerialNumbers and their location, so I invite you to post that info here with a picture of the bike if possible....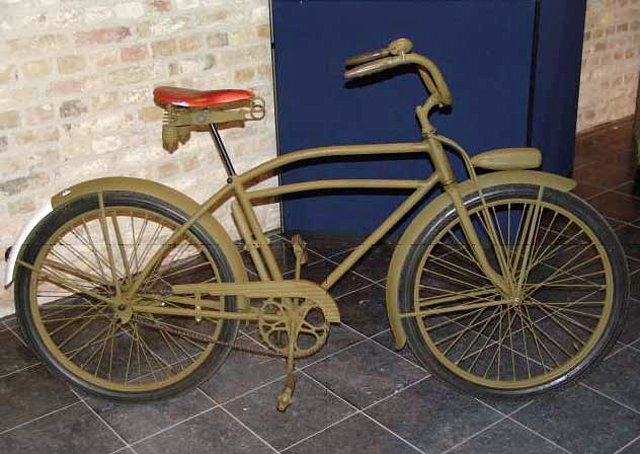 LIFE Magazine
APR 17, 1944

Columbia Bike info

There was a series of this style ad that ran all through the war years in LIFE and probably other magazines as wel
Tags: American Classic Bicycle